It's your lucky day. You can order our delicious cakes to your desk or door. They make perfect gifts – whether for Birthdays, thank you gifts, father's day or mother's day… you get the picture!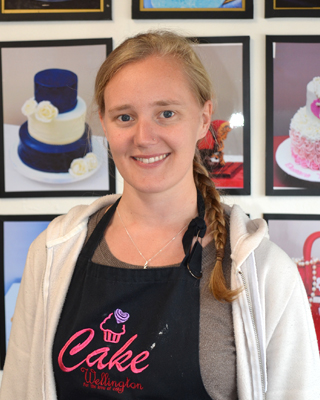 Hi there everyone.
My name is Natalie and I am very lucky to be the newest member of the Cake wellington family. I have had a passion for baking and making cakes for as long as I can remember and thanks to Theja, I am finally able to take my hobby to the next level, doing what I love for my work! I moved to New Zealand 7 years ago from the UK and haven't looked back.
I love this country and feel very privilege to be able to live my dream here. After being long-time friends with Theja and her family, she has given me a great opportunity to work along side her to produce beautiful cakes for all you wonderful people!
I'm really looking forward to meeting all the lovely people who already come by Cake Wellington regularly and hopefully meeting lots of new faces in this coming year!
Hi, 
Hi, I am Theja Idris. I make beautiful novelty birthday cakes and personalised wedding cakes in and around wellington.
To tell you a little about myself, I was born in Sri Lanka and come from a family of 5. From a young age I have always been passionate about cooking and I used to help my mum in making the meals for the family. As I grew older my interests in cooking lead me to find a passion for both baking and arts & crafts.
I started off with stitching designs on clothing and then I moved onto designing wedding cards & postcards. I began making cakes for my family very early on as a hobby but because I was getting an overflow of praise and orders I have turned it into a business today.
I have over 10 years of experience in Cake designing which I apply to each and every cake I create to make it truly unique. My extensive knowledge of cake filing allows me to concoct my very own filing which supersedes anything you can find at your local bakery. With a lot of practice and dedicated learning, I have specialised in cake decorating and fondants.
When I am not designing cakes I am busy working as a professional graphic designer. I work on a wide variety of different projects, ranging from website designing to posters to even magazines.
Since I spend so much time in the kitchen I have developed a love for cooking. I enjoy experimenting with different cuisines, from Chinese to Indian and various others. Cooking for my family and friends is always a pleasure and currently, my fish curry is the most enjoyed dish.
I currently live in Wellington with my husband and my two beautiful children. They have supported me through all my endeavours and they are my source of inspiration.
Love
Theja Idris
CAKE WELLINGTON